1995 Ford Taurus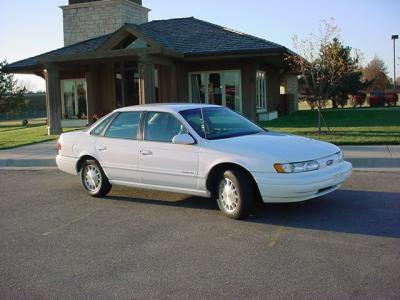 Current Status: Sold

Quick Specs:
Vehicle: 1995 Ford Taurus SE
Miles: 58500
Engine: 3.0L V6
Transmission: Automatic with OverDrive
Observed MPG: 24 City / 30 Highway
Other features:

Power windows and locks
4 wheel Disc Brakes whith ABS
Leather trimmed Power Seats
Car alarm with remote power locks

Location: Mulvane, KS (just south of Wichita)
Asking Price: $2500 OBO
11/18/2003 - With the purchase of another vehicle, I no longer have the space or need to keep the Taurus so I am putting it up for sale. It has been an excellent vehicle for me and has always gotten me where I was going.

Cosmetic: The interior of the car is in great shape. The front seats are full power (position, lumbar, bolster) and all seats are leather trimmed. The exterior is in good shape. There is some minor hail damage but the white paint hides it well.

Mechanical: The car is in good shape mechanically. It runs and drives well and with the exceptionally low miles (58,500), this car should have lots of life left in it. The motor does not use oil and has had regular oil changes every 3000 miles.
What you can find here:
Pics of the car

Last modified: 01/01/2012 @ 12:25 am